Greetings
*dislaimer- bought with my own money*
To sum it up, it sells all types of goods ranging from the clothes, shoes, beauty products, home decor, and tons of other stuff. Before placing an order, I researched for reviews about this site but it was mostly reviews on wedding dresses which said were really good. There were several bad reviews but I still took the risk.
My impression of this webshop is really positive. I ordered 2 sweaters for my first order and after a relatively good satisfactory experience, I ordered again this time with 2 dresses. I swear, their catalog can go on and on and on. I had difficulty deciding what item to put in the cart but had fun browsing through their clothes area. This store is great to buy particularly if you're interested in Asian fashion.
I believe I stumbled on this site through an advertisement while surfing on the net.
Please continue reading if you want to know the quality, service, and my overall thoughts.
These photos are taken by my current phone because of convenience. Also I apologize in advance but because of my small room, I am unable to take better photo angles or full body pictures of the clothes.
It didn't really reach to my high expectations because I thought the sweater would be heavily knit and chunky based on the pictures. Some of the polyester were falling off maybe because it was being rubbed too much. I think it should be okay because it went through a couple of washes and it still retains its shape. Don't get me wrong though! I absolutely love this sweater. The sweater is really light and the good thing is that this sweater doesn't make me feel itchy and it keeps me warm. The sweater itself looks very well made.
Before reaching to any misleading thoughts, I would like to clarify that this sweater in the pictures that I took looks dark but it's actually a baby blue color just like the stock photo. Although the color is the same, I have to say that the design isn't exactly the same as the stock photo. The stock photos do not have symmetrical holes and less loose than the one that I actually received. Once again, I thought this sweater would be heavily knit and chunky but it came out thin. Even so, I still love this sweater because it reminds me of the same
exact
Unif sweater sold in Urban Outfitters.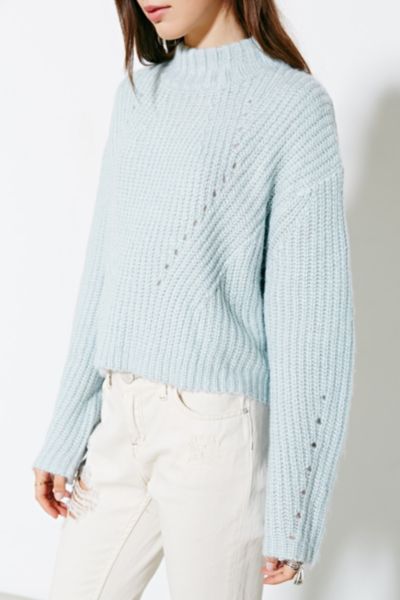 The dresses on the other hand, are remarkably amazing! It reached to my high expectations because it looks exactly like the stock photo and also the material is really good! I usually worry when shift dresses don't look exactly how it's supposed to be on me but this fits and looks well! The only complaint I would make is that the pattern isn't exactly aligned geometrically in the center. It is slightly tilted roughly about 3-4 degrees.
I am especially in love love love with this pinafore dress because it was so soft and it flowed freely. The material and quality on both dresses are great and look exactly like the provided stock photos. I think this was my favorite purchase of all. The dress is not see through and well made! I've been looking everywhere for a pinafore dress but couldn't find any. I'm glad that I found it on this website.
It's neither cheap nor high quality. It's pretty durable and I believe it can be a hit or miss but less misses. It's rather understandable since most of products they sell are low priced. Compared to other wholesale website reviews that I've read, this is definitively a better quality. All the clothes that I ordered looks exactly like the pictures including how it looked on the model. So it's alright to rely on the pictures but the measurements are really important since some of it is one sized. Their measurement chart is really helpful, so just take a note on that.
Processing and Shipping
Once you order, the website will let you know a duration the processing time.They do offer selected items that can be shipped within 24 hours. Processing took about a week for them before they shipped it out. There are a few methods on how you would prefer your order to be shipped. Of course, I chose free shipping (super saver shipping) since I don't mind the wait and tracking number is included. Shipping took about a week for the items to arrive (I live in the US). To sum it up, it took 2 weeks for my order to arrive.
Customer Service
I had no problems so I didn't really seek so much for their customer service but the reason why I think highly of their service is because they truly care about their customers. Just recently, I received a phone call from a representative from Light in the box (like what!?!?) She personally wanted to follow up with my order. She called to confirm if I have received the package and if I was satisfied and asked if I had any problems with it. I was so astonished since it's not very common for any company to take that extra mile to to reach out to me.
Overall
Yes, I would definitively recommend this website to my friend. I will probably order again for sure. Everything about this webshop is great and they don't take too long to process the shipping compared to other Asian websites. They frequently do flash sales and also reward you with 1% cash back. The prices are very affordable and it's safe because you can check out through paypal. These benefits outweigh the downfalls that I've mentioned earlier.
Sorry if I wrote so much but I hope you had fun reading this review! If you have any questions about this site, just comment and I will respond back for sure!